Property Insurance: Overseas Property from jml Insurance Services
See also Holiday Homes Insurance for UK Here
Owning a holiday home is the opportunity to have somewhere to regularly visit.
A home by the sea in the mountains or city centre. A base to go and play golf in the sun or sail on azure blue skies - skiing throughout the winter or walking each morning to that distinctive Mediterranean aroma of pine and bougainvillea lazing around the pool or sitting by the river watching time go by.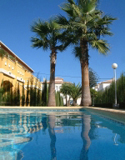 Whatever your reason for owning a holiday home property - pleasure - investment or business there is one issue that you must not forget — The insurance for it!
You may consider insuring locally, but then don't understand the language well enough if there are not advisers to help you in fluent English.
What is the answer? Why not use an UK based company with the policy written in English? And what if that holiday home in France, Spain Portugal, England, etc is not just a holiday home, but your main residence? That is not a problem: - HOLIDAY PROPERTIES IN THE UK ALSO COVERED
See also Holiday Home Insurance Fact File and Holiday Home Insurance Warning and Information for Holiday Home Owners supplied by http://www.jmlvillas.com/page/ownerinfo
Overseas Property Products: