About jml Insurance Services

jml (trading name of Jeffrey Milner Ltd) has been established nearly 40 years (January 1979)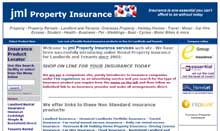 In 2002 jml Property Services (The trading name of Jeffrey Milner Ltd / jml established in 1979) set up a web site for UK rented property insurance. This site jmlproperty-insurance.co.uk promoting Landlord & Tenant insurance products (Homelet and Letsure) and has been very successful.
jml has now added Holiday travel insurance (Landlord and Tenant) Motor and Travel insurance andcar hire excess insurance – companies offering an annual insurance policy for people renting a car who only pay once for excess insurance on car rental instead of every time they rent.
The site was redeigned in 2004 and in 2007 a brand new site jml-insurance.com was launched. There are numerous well known insurance companies offering their products on the site.
Director Philip Suter is following in his grandfather Frederick Milner's footsteps by being involved with the insurance industry.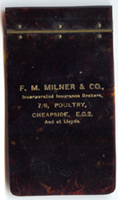 Frederick Milner ran a very successful insurance brokers company up until the late 1930's F. M. Milner & Company in the City of London (Incorporated Insurance Brokers),that was based at 7/8 Poultry, Cheapside, EC2 and at Lloyds.
In 2009 a new website was launched insurance4carrental.com to promote car hire insurance companies, van hire insurance companies and motorhome / campervan hire insurance companies.
In 2008 Irishpropertyinsurance.com was established for the Irish Market
See also:
jml Property Services launches new insurance web site
More information about the jml group
---
Statutory Company Information for websites:
jml Property Services, jml Training & Consultancy, jmlvillas, jml insurance, euro-rentavilla.com, euro-rentals.com are trading names of Jeffrey Milner Ltd.
Established 12th January 1979 under Companies Act 1946 to 1976
Registered in Cardiff, Wales.
Company Registration No. 1408847
Data Protection Registration Number: Z5675129
Contact address: Kildare, Chapel Hill, Speen, Princes Risborough, Bucks.HP27 0SP, England
Under UK Regulations jml Property Services are unable to give advice either verbally or in writing regarding insurance or assist with changes to insurance policies that you have taken out. You must contact the insurer direct. We are therefore unable to provide any quotes ourselves as we would be breaking the law.
---