Student Insurance from jml Insurance Services
Going to College or University or are you already there?
Do you have insurance for your possessions in your room or rented flat or house?
It is essential if you are living in digs, a flat, shared accommodation, a student house or a hall of residence. What happens if your personal possessions are stolen or destroyed? Can you afford to replace them? The cost of insurance is extremely small if you compare it to the replacement cost, should the unexpected happen.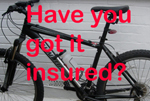 Think about the cost of replacing a CD player (the CDs as well), your computer, clothes and other personal belongings, even you bike! You really don't want to have to add these costs to your student loan.
Did you know that the average cost of a student burglary is £900? The most commonly stolen items are personal laptops / computers and other electrical goods.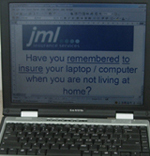 You can get cover for loss or damage to personal possessions in your home and anywhere in the world, all for the equivalent price of a pint of beer or a glass of wine per week!
Homelet and Endsleigh Insurance offer excellent value student insurance. Endsleigh also offer Student Motor Insurance.
Taking a gap year? Remember to take out your travel insurance - Backpackers policy
See our Fact File for Students
See also - Tips for Tenants when renting a property
and Students' Insurance in need of Parental Revision - November 2007
and NatWest Student Living Index 2008
and One in four home insurance policies do not provide any cover for students living away from home - September 2008
and An Education In Home Insurance - Parents can insure their offspring's possessions while at university with no extra cost
Student
Student Insurance

HomeLet Tenant Insurance
HomeLet - Tenants & Students insurance