Kinsure Insurance launched on the jml Insurance website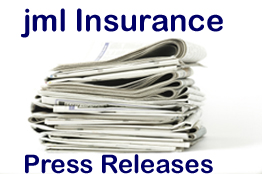 Released 18th August 2010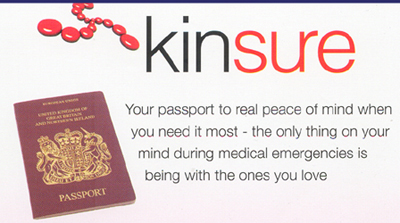 With ever increasing levels of migration, the distance of family relatives becomes greater. Kinsure insurance has been established as an emergency medical insurance so a family member can be with the sick relative quickly.
---
Kinsure insurance
is a "Passport" to real peace of mind when a member of the family needs family support quickly. The insurance is very straightforward If a family member were to fall ill or have an accident and the policyholder needs to be with their oved one, all they need do is to jump on a plane to be with them. Kinsure takes the stress out of a particularly worrying time. They offer more than just an insurance policy. They pick up the costs of ther travel including any fares to and from the hospital. They will aso make the bookings and take care of all these arrangements in the first place - making sure the policy holder can get to be with their relative as soon as possible. All it takes is phone one call. It is ideal for expatriates.
The insurance premiums are annual and Kinsure offers Europe cover and worldwide cover. The cost for an individual for Europe is £50 a year, for a couple £95 or a family £125.
The Worldwide cover costs range from £105 for an individual to £150 for a couple and £175 for a family.
This means if a couple's son or daughter go to live in Australia it would cost them £150 a year (or £12.50 a month) for peace of mind if the son or daughter was in an accident or had to go into hospital for an emergency operation.
Who can purchase a policy? No matter where someone lives or their nationality, they can purchase a policy to cover 'close relatives' living outside the policyholders country of residence. 'Close relative' is - mother, mother-in-law, father, father-in-law, stepmother, stepfather, daughter, daughter-in-law, son, son-in-law, (including legally adopted daughter or son), stepchild, sister, sister-in-law, brother, brother-in-law, of an Insured Person, and in respect of whom the appropriate premium has been paid.
Kinsure was set up as a result of the personal experience of its founder Jeremy Coll, whose in-laws live in Spain. There are millions of others who live, or have relatives who live abroad, and inevitably there will be times when illness, injury or death occurs. Being aware of the high costs for late availability flights, Jeremy developed an insurance policy to cover the arrangement and costs for travel and accommodation close to the hospital.
Kinsure is a division of J D Concepts Ltd. which is authorised and regulated by the Financial Services Authority (FSA) and is Data Protection Registered. J D Concepts Ltd. is an Insurance Specialist working with Major Financial Institutions.
Philip Suter of jml Insurance said" We are delighted to be promoting this very useful product.. We have numerous visitors to the jml Insurance site looking for travel related insurance products and this should prove to be very popular.
More information can be found at http://www.jml-insurance.co.uk/displayproduct.php?id=344&sec=8
Ends......
Company Information
jml Insurance.co.uk is part of jml Property Services, the trading name of Jeffrey Milner Ltd*. insurance4carrental is a trading name of jml Property Services. jml* is an UK based company that was established in 1979. jml insurance acts as an introducer for insurance companies selling property insurance including landlord and tenant rental products, pet insurance, wedding insurance, including HomeLet, Letsure, Endsleigh and Rentguard landlord and tenant rental products, pet insurance, , Questor and insurance4carhire car hire excess insurance via insurance4carrental.com site and travel insurance products. , travel insurance and non standard insurance products. They also operate jmlvillas.com an online marketing service for owners of holiday home property to advertise and are part of the jml Group that includes jml Training and Consultancy.
© jml Property Services August 2010
Back to jml Insurance.co.uk Press Releases
---
jml Group Blogs sites — add your comments to the appropriate site here:

Find us on twitter: jml Insurance - jmlvillas - jml training - insurance4carrental

Find us on facebook: jml Insurance - jml villas - jml Training