South Africa World Cup 2010 - Travel Insurance - Car Rental - Car Hire Excess Insurance - Driving Tips
The 2010 FIFA World Cup Football Championship takes place in June and July.
It is scheduled to take place between 11th June and 11th July and this will be the first time that the tournament has been hosted by an African nation.
Have you arranged Car Rental - Travel Insurance and Car Hire Excess Insurance? We can help as we have advertisers who can assit.
All you have to do is click on the Icons below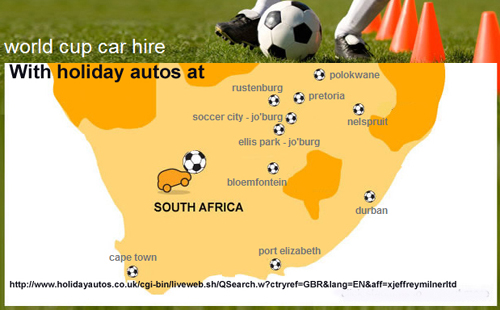 Car Hire from holiday autos
---
Large selection of Travel insurance providers including Essential Travel - Direct Travel - Syatsure - Endsleigh - Simple - JS Insurance - Protect my holiday
---
Car hire excess Providers including insurance4carhire - Questor - Icarhireinsurance daily excess.com and essential travel
---
Driving abroad guide for South Africa at insurance4carrental.com
---
Useful websites:
---
Essential Driving Tips for South Africa
Friday, June 11th, 2010
As the World Cup kicks off today there have been two tragic car accidents that have overshadowed the start of the world's biggest sporting tournament. As fans from around the world arrive in South Africa, we want to highlight some road safety tips to make sure visitors stay as safe as possible on the roads throughout the tournament
Traffic lights
Watch out for people who jump red lights - even if you have a green light, traffic coming from other directions may not have obeyed the signals
A flashing red arrow on the left means that you're able to turn in that direction, as long as there is no other traffic on the road
A continuous red (or green) arrow is telling you that you can proceed with caution in that direction

Overtaking
Overtaking can occur in any lane on a highway and it is fairly common for drivers in South Africa to even use the hard shoulder for this, so take extra care to watch out for this.
Speed limits
As with any country, the locals are likely to be a little less cautious with sticking to speed limits, but any visiting drivers should take care to stick to them to avoid a hefty fine and possibly a run in with the law. Below are the standard speed limits for South Africa:
Motorways - 120 km/h

Open Roads - 100 km/h

Built-up Areas - 60 km/h
If the unfortunate event that you're involved in an accident or witness and accident in South Africa, you can dial the emergency services on 112 from your mobile phone. If you don't have access to a mobile, you can dial the police on 10111 or the ambulance service on 10117 from a landline.
Source: Carrentals.co.uk
For Further Information about Carrentals.co.uk car hire visit http://www.insurance4carrental.com/Carrrentals.htm
---
Volcanic ash cloud could hamper travel to South Africa this June
From Direct Travel Insurance 3rd June 2010
More than 20,000 football fans are expected to travel to South Africa for the world's premier football event this June. There is however widespread concern that the recent volcanic ash cloud that affected air travel worldwide could lead to further flight delays or trip cancellations. In light of the above football fans have been urged to buy travel insurance upon booking their flight tickets to avoid potential losses due to cancelled flights. Paul Thilo, Vice President - Consumer Marketing at Direct Travel Insurance said: "Many of our customers are concerned about their forthcoming holidays, particularly as the volcanic ash situation may continue. Football fans heading to South Africa should make sure they have suitable cover and not simply consider insurance as an optional extra.
Our ambition is to enable our customers to focus on enjoying the football, which promises to be a fantastic event." UK travel insurance provider Direct Travel has confirmed that they will cover claims from customers that are either stranded abroad or cannot travel due to the volcanic ash. Many travel insurance policies do not cover such situations, but in light of these extraordinary circumstances Direct Travel Insurance is treating this as an 'adverse weather event'.
This means customers may be able to make a claim for Delayed departure, Abandonment or Missed departure under their policy. Direct Travel Insurance, nominated as the most trusted travel insurance provider in the Moneywise Customer Service Awards 2010, offers 24 hour medical emergency services, Medical expenses up to £20m per person, Missed departure up to £1,000 per person, Delayed departure up to £350 and Abandonment up to £6,000 per person. If the volcanic eruptions affect travel to South Africa, football fans that have a Direct Travel Insurance policy will be able to submit a claim for Delayed departure, Missed departure or Abandonment. For further information visit http://www.direct-travel.co.uk/?AID=jmlproperty
---
According to "The Insurance Daily" 7th June 2010
World Cup insured for £6.2bn
The World Cup, the world's most watched sporting event, begins this month, and Lloyd's has stated that it is insured to the tune of £6.2bn.
The World Cup began in 1930, and has grown into the biggest sporting spectacle of the global stage, with huge support from all corners of the planet and tremendous financial implications for broadcasters and FIFA.
Football is bigger business than ever before, and according to Beazley underwriter Peter Thompson an individual top flight footballer can be insured for up to £50m.
The ten stadia that are to be used in the tournament are an equal mix of old stadia and new ones specially built for the event, and are worth a combined total of £3.2bn.
However, insurance is not the sole preserve of the talented athlete or prudent tournament organiser.
The ABI and Direct Travel Insurance have both, in recent months, strongly urged fans travelling to South Africa to take out travel insurance to protect themselves, should anything more serious than an unexpected footballing defeat occur.
---