Student Rental advice and Student Insurance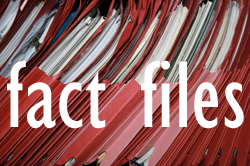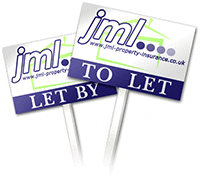 SEE ALSO: Tips for Tenants when renting a property and Tenants Advice Guide and NatWest Student Living Index 2008 and Student accommodation costs an average of £75 a week - Halifax Reseach
jml Insurance Services: Fact File
Student Accommodation Guide
If you are about to become a student at college or university or already one, at some point you will probably need to rent a property.
If you are renting in the halls of residence, the housing department will normally assist you with any concerns and provide you with a guide. If you decide to go it alone and move into a room or bedsit you will probably have to take out a tenancy.
We have compiled a guide of the "jargon" used in rental and CLICK HERE to find out more.
Many people get together and rent a house. You then decide who you want to share with and start to search for accommodation. Most landlords want their property occupied throughout the year, so this often means taking a property and paying rent when you might not be living there. You are also responsible for the property then as well.
1) Create Your Group of Students - You will need to decide how many people are in your group before you start looking at potential properties for a student house. Once you have decided on a home for the next year and signed the agreement, you are all jointly liable for the rental payments. Pick friends you can depend on, as the monthly rent is for the whole house and not per room, so if one person defaults you may end up paying more than your fair share of the rent.
2)Holding the Property -Once you decide on your house you can normally secure the property with a holding deposit. You might also be asked to pay an administration fee, per student, in order to hold the house and to take up:
Applicant's Credit Reference
Guarantor's Credit Reference
Tenancy Agreement preparation
Notification to Utility Companies


Some agents charge for these just before you move in. Check this all out at an early stage. A lot of agents display their Terms of Business on line, but if they do not, ask for a copy at their office. You might also find that administration fees and holding deposits are non refundable.
3)Credit References and Guarantors
Many agents carry out a full credit reference on all Tenants through an independent agency. You will have to complete a tenancy application form when you put down the holding deposit. It is most important to ensure that you enter all the relevant information - date of birth, phone, fax and email details of referees etc. As a student income is unlikely to satisfy most credit reference agency for rental payments so you will have to provide details of someone who can guarantee your payments.
The guarantor will be liable for rental payments if you are unable to pay them, so they will need to have a regular income.
Q - What if I fail the credit reference?
A - it is unlikely you will fail the credit reference as you will have a guarantor. However, should your guarantor fail the checks you can ask someone else to complete another guarantor form. Common reasons for failure of references are adverse credit history and insufficient income. Your guarantor will need an income of at least 3 times your proportion of the rent.
4) Period of Tenancy
Most tenancies will run for a year, sometimes less so make sure you let you parent / guardian / guarantor know this in advance. The next stage is the Tenancy Agreement. This is then prepared and when drawn up, to be signed by all guarantors and Tenants.
5) What if someone wants to pull out from the tenancy?
After the agreement has been signed, you will be responsible for finding a replacement Tenant or paying the remaining rent between you if one of the group doesn't move into the house
6) Rent and Deposit
You will be asked for the first month's rent and a security deposit. The security deposit will be held by either the agent or the Landlord depending on the service the Landlord has with the agent This is a returnable deposit subject to the condition of the house and any rental arrears at the end of the tenancy. Please note from July 2006 (Under legislation from the 2004 Housing Act) that on all new tenancies the Landlord will no longer be able to hold deposits for the majority of tenancy types. The deposit will then be held under an approved scheme. See Also Tenancy Deposit Protection Scheme
7) Payment and Maintenance Information
Rent is normally paid by standing order on the rent due date. It is always recommended that you keep a record as proof of your payments. Some agents ask for a series of post dated cheques to be cashed either monthly or quarterly in advance. Please ensure you (or your guarantor) have sufficient funds to pay the rent on the due date as it is unlikely that you will receive your Student Loan cheques before a rent date.
8) Gas Safety
When there are gas appliances in a property the Landlord has a legal duty to provide a certificate to prove the gas appliances in the house have been checked and are safe to use. If you are not provided with one request from your landlord or agent. They last for twelve months and when you leave, it is a good idea to either return it to the landlord or agent, leave it at the property, but do not throw it away. It is not your property. As this check needs to be done annually, should the renewal date fall whilst you are living at the house you will need to provide access to a gas contractor. This is for your own safety.
You have now found a property what about the insurance for it?
Going to College or University or are you already there?
Do you have insurance for your possessions in your room or rented flat or house?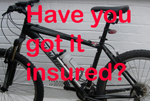 It is essential if you are living in digs, a flat, shared accommodation, student house or a hall of residence. What happens if your personal possessions are stolen or destroyed? Can you afford to replace them? The cost of insurance is extremely small if you compare it to the replacement cost should the unexpected happen
Think about the cost of replacing a cd player (the cds as well), your computer, clothes and other personal belongings, even you bike! You really don't want to have to add these costs to your student loan. (see the section at the bottom of this page)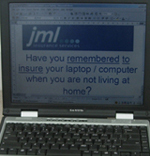 Did you know that the average cost of a student burglary is £900? The most commonly stolen items are personal laptops / computers and other electrical goods. Homelet will cover loss or damage to personal possessions in your home and anywhere in the world, all for the equivalent price of a pint of beer or a glass of wine per week!
To help your budget you can of course pay your premiums monthly.

Remember: A With some insurance companies the policies are Portable so if you move from Edinburgh to Ealing you can take it with you.
Taking your car to College or University ? Click on logo for further information
---
Make sure you insure your laptop / computer, ipod, clothing, bike and more are covered.... Click on a logo below for more information
---
SEE ALSO: Inventory Information for the UK Domestic Rental Market
---
Return to Fact Files & Information Index
---